My Favorite Broadway: The Leading Ladies By CHARLES ISHERWOOD September 30, 1998
(Concert; Carnegie Hall; 2,804 seats; $ 250 top)
A Continental Airlines presentation of a Metropolitan Entertainment Group and Continental Airlines production of a concert in two acts. Directed by Scott Ellis. American Theater Orchestra conducted by Paul Gemignani. Reviewed Sept. 28, 1998. Running time: 2 HOURS, 45 MIN.
With: Nell Carter, Lea DeLaria, Linda Eder, Jennifer Holliday, Anna Kendrick, Judy Kuhn, Priscilla Lopez, Dorothy Loudon, Rebecca Luker, Marin Mazzie, Andrea McArdle, Audra McDonald, Liza Minnelli, Debra Monk, Rosie O'Donnell, Faith Prince, Karen Ziemba.
In a swirl of sequins, velvets, bugle beads and the occasional palate-cleansing tuxedo, a heady lineup of Broadway's distaff stars rising, risen and en-route-to-legendary paraded their talents at Carnegie Hall Monday night in a benefit for AmFAR and Broadway Cares/Equity Fights AIDS that was also taped for broadcast on "Great Performances."
The nearly three-hour concert, presented by co-producer Continental Airlines, was an often intoxicating display of vocal artistry that might only be faulted for its overabundance: How much rich dessert can one be expected to consume in an evening? Hearing Jennifer Holliday tear into her signature song from "Dreamgirls" followed by the potent comic astringency of Elaine Stritch saluting "The Ladies Who Lunch" was like capping a hot fudge sundae with a heaping helping of tiramisu.
Not that I'm complaining.
Special guest females Robert Morse and Tony Roberts opened the show in period drag with "Beauty That Drives a Man Mad," a snazzy song from the Jule Styne-Bob Merrill musical "Sugar," based on "Some Like It Hot," in which Morse and Roberts starred as the stage counterparts of Jack Lemmon and Tony Curtis. But from a gracious introduction by Julie Andrews straight through to a land-of-a-thousand females finale, it was wall-to-wall divas, among whom we can even count tux-clad, pompadoured firecracker Lea DeLaria, giving a jazzy taste of the upcoming "On the Town."
The evening was commendable for its celebration of such up-and-comers the absence of established names Patti LuPone, Bernadette Peters and Betty Buckley, to name a few, gave these aspiring performers more time in the spotlight. Audra McDonald, with three spots and three gowns (one for each Tony?), growled out a delightfully sharp-edged rendition of "Down With Love," among the few rarities on offer (from Harold Arlen and E.Y. Harburg's "Hooray for What!").
Her "Ragtime" co-star Marin Mazzie sang a sultry "Bewitched," while both were later joined by Judy Kuhn for a best-of-Lloyd-Webber-love-ballad medley ("Love Changes Everything," "Unexpected Song" and "I Don't Know How to Love Him," which blended together with rather illuminating ease).
Linda Eder's Streisand-esque power-pop style blazed distinctively from her songs, "Jekyll & Hyde's" "Someone Like You" and the title tune from "Man of La Mancha," and was a marked hit with an audience that was appropriately unstinting in its enthusiasm for all the performers.
Breaking up the string of solo belting turns was "Show Boat's" "Life Upon the Wicked Stage," sung with tongue-in-cheek wit by "High Society's" young Anna Kendrick, backed by the dissolute dames from the Roundabout's "Cabaret." The number teetered on the edge of tastelessness, as Kendrick, in perky pigtails and pink party dress, mimicked the lewd chair-straddling antics of the Kit Kat Klub chorines, but this young performer's startlingly precocious grasp of irony served to bring down any raised eyebrows.
Also leavening the ballad-freighted evening were two choice comic segments from Faith Prince: her memorable "Adelaide's Lament" and "I'm Going Back," from "Bells Are Ringing," both models of vocal wit.
Among the more seasoned performers, Dorothy Loudon's tremulously touching song from "Ballroom," Dee Hoty's angular elegance cutting through Sondheim's "Could I Leave You?" and Debra Monk's exuberantly vulgar tramp number from "Steel Pier" stood out. Andrea McArdle, who might be called a young veteran, looked smashing in red velvet, and brought an aching sense of loss to the easy optimism of her "Annie" medley of "Look for the Silver Lining" and "Tomorrow."
Closing out the evening were Holliday, whose signature vocal pyrotechnics were probably the only thing capable of upstaging her hairdo (picture Mount Vesuvius, modeled in gold ribbons, frozen in mid-eruption), and the inestimable Stritch, herself a simmering volcano of sarcasm.
But in an evening of vocal excellence, it's sad to have to report that Liza Minnelli's contribution was almost heartbreaking. Valiant and generous though it was for her to participate, she looked unwell, and struggled to keep her strained voice in control through a most unhappily chosen "Sing Happy." She then got through "Some People" on sheer willpower and on the palpably felt good will of the audience.
It's to be hoped that a genetic predisposition toward comebacks will kick in, and this once-impeccable performer can again attain the high standard of vocalism so marvelously displayed throughout the evening, a standard she herself has helped set.
---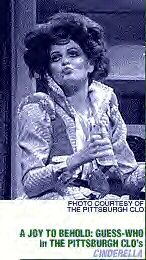 From "Happy Talk" the Online R&H Newsletter

When I began working here at R&H, my first assignment was to oversee the re-working of Rodgers & Hammerstein's Cinderella. Actually, it wasn't a re-working; it was undoing a version and bringing the show back to what Rodgers& Hammerstein originally wrote. The premier of this "new" version took place at the Pittsburgh Civic Light Opera. All of this happened several years ago, but it has been in my thoughts recently for a number of reasons.

One reason is that playing Joy in Pittsburgh was a performer unknown to me at the time. She was funny then, and she is funny today. She's also become an extraordinary artist - which began to evidence itself when she played a delicious Carrie Pipperidge in an ambitious Carousel at the Kennedy Center in the mid '80s. Today she is Lou Diamond Phillips' new Mrs. Anna in The King and I on Broadway and her name is, of course, Faith Prince. She managed to sweep the New York critics off their feet when they came to see her in the award-winning production this Spring. In the midst of a very busy Broadway season, it was particularly gratifying to have The New York Times critic Ben Brantley tell his readers that Faith was reason enough to make a return visit to the show.

If there's a lesson in these musings it's that you should never second-guess which production of which show in which place will have ramifications for the future. I went to Pittsburgh that summer as the new kid on the block to help solve some problems with CINDERELLA. It boggles my mind to realize that years later, I would see cast member Faith Prince in high-profile Rodgers & Hammerstein production. Closing the circle, Pittsburgh Civic Light Opera is presenting our "re-worked" Cinderella once again this summer.
---

Nosey Mrs. Rat

Author: Jeffrey Allen

Illustrator: James Marshall

Narrated by: Faith Prince

Description: When does a healthy curiosity become annoyingly nosey? When you have a nosey neighbor! NOSEY MRS. RAT takes a humorous look at snooping around, and shows how an investigative mind can lead to great discoveries. In an informative interview, primatologist Dr. Jane Goodall, explains how her own curiosity helped her become a leading scientist in the study of primates.
---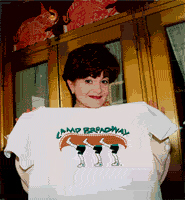 CAMP BROADWAY SALUTES GIRL SCOUTS OF THE USA

NEWS AND PHOTO TIP FOR WEDNESDAY, JUNE 11 AT 12:45pm

CAMP BROADWAY SALUTES GIRL SCOUTS OF THE USA "THE KING AND I" HELPS GIRL SCOUTS EARN THEATER BADGE FORMER GIRL SCOUT, FAITH PRINCE RENEWS HER PLEDGE

WHO: Faith Prince, Tony Award-winning star of Rodgers and Hammerstein's THE KING AND I will join Margie Joy Walden, Membership & Program Consultant for The Girl Scouts U.S.A., the children who play the Royal Princesses in the production, and Carol Chiavetta, Marketing Director for Dodger Endemol Theatrical Productions, to announce a special summer promotion that enables tri-State area Junior Girl Scouts to earn their "Theater" badge and Cadette and Senior Girl Scouts to earn recognition for completing "The Play's the Thing" Interest Project.

WHAT: Camp Broadway is a performing arts program for children 10-17. In addition to an annual summer camp in New York, which will be held this year August 11 through August 16, Camp Broadway sponsors theatre related activities and arts education programs. Camp Broadway continues to support the Girl Scouts of the USA badge program both in New York and in select cities throughout the country.

WHERE: Neil Simon Theatre, 250 West 52nd Street, Lower Lobby
---
Home|Biography|News|Credits|Pictures|Sounds|Message Board|Sign Guest Book|View Guest Book|Links